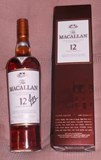 RUSHfest Scotland
, the Scotland convention for Rush fans, is hosting a world wide raffle to win a 12 year old bottle of The Macallan whisky signed by Neil Peart, in an effort to raise funds for
Macmillan Cancer Support.
It is a well known fact amongst RUSH fans that Neil Peart's favorite tipple after a show or a bike ride is a 'wee measure' of
'The Macallan'
, one of the most highly regarded distillers in Scotland. The
12 year old Macallan
, which will come with a certificate of authenticity, is no longer in production and sure to go up in value within the whisky collector community.
Each drawing entry is just £5 GBP (~$8 USD), and it is open worldwide. The more you donate, the more times you get entered into the raffle - each multiple of £5 GBP is another entry in the raffle. The drawing will be made on April 18th, 2015.
For complete details, visit
https://www.justgiving.com/rushfest-Scotland/
.
- Thanks to Mike Sword for the headsup!