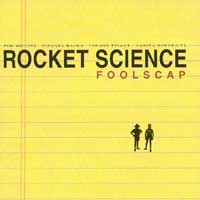 The long awaited debut album from Rocket Science,
Foolscap
, was released October 9th, from Sonic Unyon Records.
Foolscap
was co-produced and recorded by Geddy Lee in his home studio, and includes his nephew Rob Higgins on bass and vocals. Geddy also provided backing vocal on "Space Suit" (previously available on Rocket Sciences' 5 song EP).
"It is rock, rock with a kind of technical edge to it. I have a home studio and we have been working here and gone into the smaller studios around town to do some sessions now and again. It has been fun for me and I think fun for them as well." - Geddy Lee, JAM! Showbiz, Jan. 18, 2000
The album is available in most Canadian retail record stores, but is only available outside Canada via mail order at this time. To order, send a check or money order for $15.49 (Canadian) or $10 (US) payable to Rocket Science, to 54 Phoebe St., Toronto, ON, Canada M5T1A9. -
Rocket Science Online