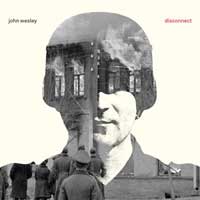 Guitarist John Wesley, best known by many as touring guitarist for Porcupine Tree,
announced back in February that Alex Lifeson has recorded
a "mind-blowing" solo for the track "Once a Warrior" on his album
Disconnect
which was released UK today, March 31st, and in the U.S. on April 1st. You can
order your copy here
.
"7 years ago I was fortunate enough to meet and spend some time with one of my early guitar heroes, Alex Lifeson of RUSH. He's been a HUGE influence on my guitar playing throughout the years, and he's also one of the kindest human beings you'll ever meet. Now, 7 years later, he's performed a MIND-BLOWING guitar solo on my song, 'Once a Warrior.' I'm so happy to have Alex on my new album, 'Disconnect,' and I can't wait for you to hear it!" - John Wesley, February 6, 2014
ProgReport.com posted a video interview with John Wesley where he gave credit to Alex Lifeson as a large inspiration behind the "heavy guitar sound" emulated by Porcupine Tree, and also talked about how Alex came to record on his solo album. You can
tune in here
, he first discusses Lifeson and Rush at the 8:55 mark, and again at the 16:50 mark.
HuffingtonPost has posted another new video interview with John Wesley where he expands on how Alex Lifeson became involved with
Disconnect
. You can check it out online
here
.