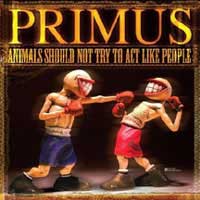 Rush fans viewing the new Primus DVD,
Animals Should Not Try to Act Like People
, released October 7, will be treated to an interview by a strikingly familiar face. The "Brown Album" portion of the DVD has an area called "Horrible Swill" which contains an interview of the band performed by one "Big Al", wearing black rimmed glasses and fake crooked teeth. In addition, the "Attic" area contains a "pictures" section which includes a photo of Les Claypool and Geddy Lee fishing!