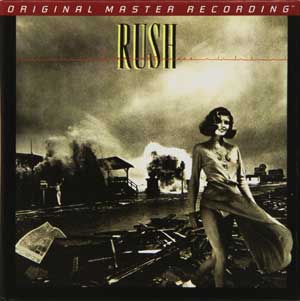 The
Permanent Waves Ultradisc II™ 24 KT Gold CD
by Mobile Fidelity Sound Labs was released January 8, 2008. This CD comes in heavy stock cardboard gatefold which replicates the original vinyl album packaging, and is gold stamped with a number making it a true limited edition. The CD itself is in a soft cloth sleeve which slips into the gatefold along with the CD booklet and a MOFI technical data informational card. The artwork is faithful to the original album, and even includes the incorrect lyrics of "Freewill" which were eventually corrected in the original Mercury remaster.
Unfortunately, this is the to be the last MFSL reissue:
"After literally months of examination and discussions with the artists, due to the age and fragility of most of original first-generation analog masters to classic Rush titles, we?ve had to cancel plans to release the titles we had planned. They have deemed that the original masters should not be used for any future re-mastering, and we have to respect that decision. We apparently lucked out big-time with Permanent Waves as it was in pristine condition. Sorry for the bad news but we?re not feeling so hot about it ourselves. I believe another indie label is now looking into releasing some Rush titles in the future but mastered from copy tapes." - Best regards, Michael Grantham, Mobile Fidelity Sound Labs, March 2008
Mobile Fidelity's Limited Edition 24k Gold Audiophile CDs are some of the most valuable collector's items within the Audiophile market, pressed directly from the original studio master session tapes and engineered to produce the finest CD sound quality available. This is the fourth Rush album to be released in the Ultradisc II™ line; previous releases include
2112
(1993),
Moving Pictures
(1992), and
Signals
(1994), all of which are now out of print; the
Permanent Waves
Ultradisc II™ is sure to be highly coveted by Rush Audiophiles.