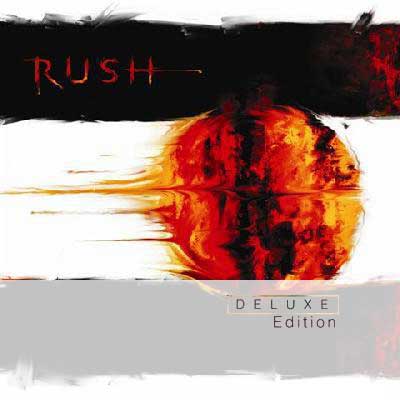 I hope you all enjoyed my April Fool's joke!
RUSH fans rejoice! From RUSH.com:
"The Deluxe Edition of RUSH's triumphant 2002 album
Vapor Trails
will be released later this spring. A two disc set, the Deluxe Edition will contain both the original
Vapor Trails
album remixed by Rich Chycki from the original master tapes, as well as a second disc featuring 12 bonus tracks.
"That record was a very emotional record for us" says Alex Lifeson, "and it was very fragile. From the heavy stuff to the more melodic stuff, it was a very fragile representation of the band, in the way it was recorded. Unfortunately, it was a victim of what has become known as the 'Loudness War'. In mastering, it was mastered too high, and it just crushed everything. All the dynamics got lost, especially anything that had an acoustic guitar in it. With this Deluxe Edition, we are able to present our fans with our original vision of the album."
Disk two of the Deluxe Edition includes both an early demo version of "Earthshine" and an early instrumental version of "Peaceable Kingdom". Also included are unreleased performances of "Closer To The Heart" and "Ceiling Unlimited" recorded live in Mexico City in 2002, as well as the band's complete seven song set performed live in Toronto in 2003. Closing out the Deluxe Edition is a previously unreleased instrumental edit of "One Little Victory", which the band had licensed for use in a videogame published by EA Games in 2002.
"This is really for our fans," says Geddy Lee. "Two months after we released the record, we were kicking ourselves for not taking more time during the mastering process. Ultimately, it was our fans who missed out. We're trying to make it up to them now." "By including some worthwhile stuff on the bonus disk," adds Alex. "Although we usually don't keep anything that doesn't make the final album, after spending a year in the studio for 'Trails' we had tons of early recordings stored on DAT tapes which luckily no one had the heart to throw out. When Rich and I went back to the master tapes, I pulled out some of the early recordings from the those sessions and we've included them here as a gift for the fans." Geddy adds "'Earthshine' was the first song that we wrote after five years apart, and about five months into the project we reviewed the song and decided to completely rewrite it. The version included here is the one that didn't make the album. Also, 'Peaceable Kingdom' was originally constructed as an instrumental piece before Paul [Northfield] urged us to rework it with some lyrics Neil had written after 911. Ultimately, they're more of a curiosity really, something only our fans might appreciate." Lifeson continues "Exactly, this is for our fans. We filled up the bonus disc by including our complete performance from Toronto in 2003 which we did to help out Toronto during the SARS outbreak. We performed in front of almost a half-million people, the biggest crowd we've ever played for, and we've never released it before. "
"Coming off their induction into the Canadian Songwriter's Hall of Fame, RUSH is currently preparing for a North American Tour."
For the complete press release visit
Rush.com
, April 1, 2010.