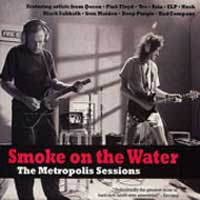 Originally released in 1990 on
Rock-Aid Armenia, The Earthquake Album
, the all star recording of "Smoke On The Water" is being reissued as
Smoke On The Water: The Metropolis Sessions
on November 22 (
preorder the cd
or (
download from itunes
). A benefit for the victims of the earthquake in Armenia on December 7, 1988, "Smoke on the Water" was recorded by an all star group of performers (see below) including Alex Lifeson.
"Smoke On The Water" was recorded over five sessions from July 8th to September 24th, 1989. Neil Peart had agreed to take part but was unable due to scheduling conflicts. Alex was in attendance for only the final session on September 24th:
"The one person from Rush who thankfully was able to make it was Alex Lifeson. He felt that there was enough solos on the record so he prepared some guitar lines that would underpin the song and give it some groove. You can hear his playing at the start of the guitar solos, in the Paul Rodgers verse and he's the one playing the crash chords at the end of the song. He did it all in one take. John Brough and I [Jon Dee, Founder of Rock Aid Armenia] were producing the session that day and we were duly impressed. When Alex left the room we just stared at each other and raise our eyebrows in awe." - RockAidArmenia.com
"Smoke On The Water" includes: Lead guitarists: Richie Blackmore (Deep Purple), Dave Gilmour (Pink Floyd), Tony Iommi (Black Sabbath), Alex Lifeson (Rush), Brian May (Queen) and Geoff Beauchamp. Vocalists: Ian Gillan (Deep Purple), Bryan Adams, Bruce Dickinson (Iron Maiden), Paul Rodgers (Free, Bad Company). Bass guitar: Chris Squire (Yes). Keyboards: Jon Lord (Deep Purple), Keith Emerson (ELP), Geoff Downes (Asia, ex-Yes). Drums: Roger Taylor (Queen).
For more information including an extensive history of the project including and photo gallery visit
RockAidArmenia.com
- Thanks to RushIsABand for the headsup!