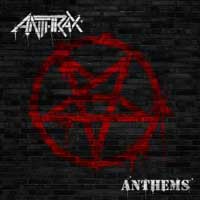 UPDATE 3/19: In a new interview with radio.com, Anthrax's Scott Ian commented on Rush and the Rock Hall of Fame (thanks Bman for the headsup!):
"I'm certainly a Rush fan but [Drummer] Charlie [Benante] and [bassist] Frankie [Bello] and Joey are like, Rush nerds. They know every single thing about Rush...People take Rush seriously, they're not everyone's cup of tea, but everyone has a respect for that band whether you like them or not." - Radio.com, March 19, 2013
Anthrax's new EP
Anthems
, hits the store shelves today, March 19th. The tracklist includes Anthem (RUSH); Jailbreak (THIN LIZZY); TNT (AC/DC); Big Eyes (CHEAP TRICK); Smokin' (BOSTON); Keep On Runnin' (JOURNEY).
Click here to order
the CD now; click here to
buy it on iTunes
.
"When I was first learning to play drums, I would strap on my headphones, play along with [All the World's a Stage] and be transformed. I remember talking with Cliff [Burton] and Kirk [Hammett of Metallica] back when we first met, and we all agreed how much of an influence Rush was on all of us. I don't [know] if you would hear anything that sounds like Rush in Anthrax's music, but the passion, the drive, the musicianship and the appreciation is all there." - Charlie Benante, Rollingstone.com, January 18, 2012
"It was a lot of fun, especially because a lot of those (songs) aren't, I guess, normal for us or like so much of our repertoire - although they are because they're songs we all knew. Maybe on paper the idea of us doing something like that seems weird, until you hear them and then it makes sense." - Scott Ian, Billboard.com, January 4, 2012
It was first reported that Anthrax was working on a Rush cover
back in April
of last year, when
a video was posted of drummer Charlie Benante
laying down his drum track.
Further news broke in August
of the covers EP including
a video interview with the Artistan News service
where guitarist Scott Ian confirmed:
"The RUSH song is a bit of a bitch; I can't say that's an easy one. But it's a song we all know and we're all familiar with, so then, of course, you take on the challenge of just really trying to nail it and do it justice."