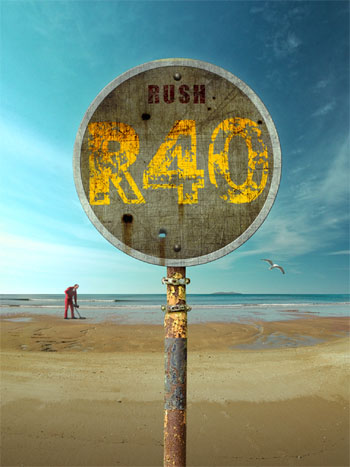 The
R40 boxed set,
containing blu-ray or dvd editions of Rush's five most recent live videos (
Rush in Rio
,
R30
,
Snakes & Arrows Live
,
Time Machine
,
Clockwork Angels Tour
) plus an
R40 bonus disc
containing
oft-requested items from the vault, is coming November 11.
The box will also include a 56 page hardback book.
It's worth mentioning that this will contain the first release of
Rush in Rio
on blu-ray, and in addition this edition of the R30 blu-ray does include the bonus features, which were left off the original
R30
blu-ray edition.
The bonus disc is purported to include the complete Laura Secord Secondary School 1974 footage of which only three tracks have been previously available, Lock And Key 88 (outtake previously only available on select versions of the A Show of Hands laserdisk), the Passaic NJ Capitol Theatre show from 1976 (previously seen in Beyond The Lighted Stage), and Rush at the Molson Amphitheatre in 1997 (the previously shelved Different Stages video[?]), as well as the
I Still Love You Man
video from the Time Machine Tour and footage of the the Rock & Roll Hall Of Fame Induction in 2013.
From the product description:
2014 marks the 40th anniversary of the release of Rush's eponymous debut album in 1974. This superb collector's box set brings together live performances by Rush from each decade of their career. It includes "Rush In Rio", "R30", "Snakes & Arrows Live", "Time Machine 2011: Live In Cleveland" and "Clockwork Angels Tour" plus a bonus disc of previously unseen live material stretching from 1974 to 2013. Rush are renowned for the energy and excitement of their live concerts and this set brings together some of their finest performances. The 6 Blu-ray discs are contained in a stunning 56 page hardback book measuring 305mm x 225mm with the 6 discs contained in 5 additional rigid insert pages. The 56 pages of the book are filled with memorabilia and photographs documenting 40 years of Rush live in concert. This is the ultimate collection of Rush live performances, beautifully presented.
And here are the bonus disc details:
Disc Six - R40 Bonus Disc
Laura Secord Secondary School 1974
1) Need Some Love 2) Before and After 3) Best I Can 4) I've Been Runnin' 5) Bad Boy 6) The Loser 7) Working Man 8) In the Mood (partial)
Capitol Theatre 1976
1) Bastille Day 2) Anthem 3) Lakeside Park 4) 2112 5) Fly By Night/In The Mood
Lock and Key 1988
Molson Amphitheatre 1997
1) Limelight 2) Half the World 3) Limbo 4) Virtuality 5) Nobody's Hero 6) Test for Echo 7) Leave That Thing Alone/Drum Solo 8) 2112 (all seven parts)
I Still Love You Man 2011
Rock & Roll Hall Of Fame Induction 2013
The UK release date is given as Monday, November 17th so the North American release will likely by the following Tuesday, November 18th. Thanks to Ed at
RushIsABand
for the heads up.