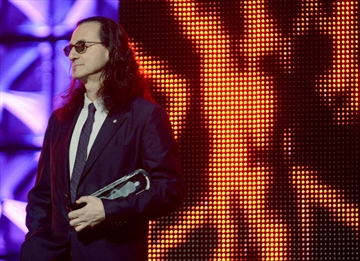 Today's Hamilton Spectator
included a lengthy follow on Saturday night's Juno Award's celebration:
Rush singer Geddy Lee "gratefully" accepted the award on behalf of the band, but admitted he felt uncomfortable receiving "an award for doing something that you should do."

Rush began supporting the Toronto Food Bank during its earliest shows at Maple Leaf Gardens, urging fans to bring food for those in need. Rush has also performed benefit shows for the United Way and in support of AIDS research.

In 2008, Rush donated $100,000 from a Winnipeg concert to the Canadian Museum for Human Rights. In the same year, the band also gave $100,000 from a New Orleans concert to Brad Pitt's Make It Right Foundation to help rebuild the city in the wake of Hurricane Katrina.

As well, Rush has raised some $2 million for Doctors Without Borders and another $575,000 for Alberta Flood Relief.

"There are a lot of people who give and don't play in a rock band, they don't make a lot of money," Lee told reporters backstage during the Juno Awards gala attended by some 800 music industry insiders at the Hamilton Convention Centre.

"Giving is a healthy thing to pass on to other people. You don't have to shout about it, but it is important to do it, whether it's $5 to someone in the neighbourhood, it's a meal, there's a ton of ways to help. It's a part of everyone's obligation as a human being. We try to look at life like that."

When asked why the band has not publicized its many charitable acts, Lee replied: "We're nice Canadian boys and we try not to make a spectacle of ourselves. We focus on our work and get publicity for the work we do. What we do privately is private."

Lee's bandmates — guitarist Alex Lifeson and drummer Neil Peart — were unable to make it to the Juno dinner, but each sent brief videotaped messages of thanks.

"It is both a gratifying and a humble thing to be recognized this way," said Peart, who is currently rehearsing in California for the band's upcoming tour. " ... I always say, if you do well, try to do good. Because I've done well, I try to do good."

Lee, 61, told reporters that the secret to the Toronto band's longevity was its sense of humour.

"It's really not as easy as it looks to stay together for 40 years," Lee said. "We are blessed with very equal temperament and we have a unique and shared sense of humour. We try not to take things too seriously other than the music we are working on ... We are friends, we like each other and we do like to hang out together and make each other laugh."

Also honoured at the Juno dinner was longtime Rush manager Ray Daniels, who founded the Anthem Records label after the band was rejected by every other label in Canada during the early '70s. Daniels was presented with the Walt Grealis Special Achievement Award for his contributions to the Canadian music industry.

"I've always said that I was at Rush's first shows and I plan on being at the last. That hasn't changed," Daniels told the audience.

"I've had the privilege of spending time with some of the most interesting people in the world; some are captains of industry, world leaders and elite athletes," Daniels said. "Some were just well-read limo drivers and others just music fans like myself. What a trip for a kid like me who never finished high school. When I started out with Rush, Pierre Trudeau was prime minister, Nixon was about to be impeached and the Leafs were only a few years past winning the Stanley Cup. That is a long time ago."

Other charitable organizations supported by Rush include the Negro Leagues Baseball Museum, Child Advocates, the Dominic Triano Foundation, Little Kids Rock, the Kidney Foundation, the Chilean Red Cross and Grapes for Humanity Canada.