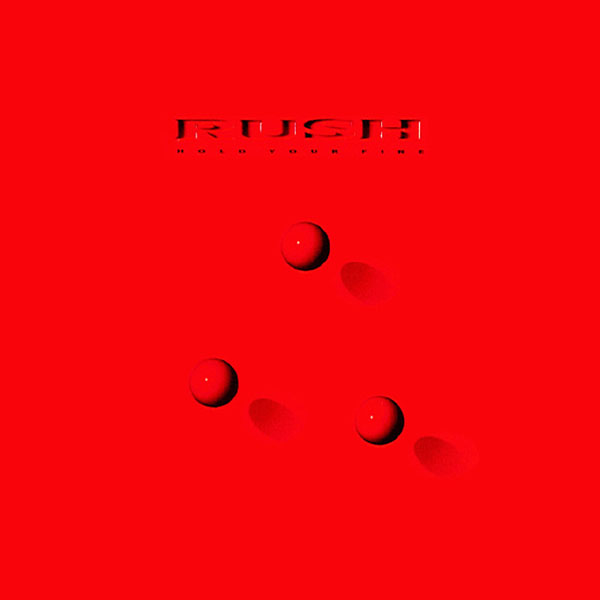 Last year photographer Glen Wexler sat down with Travellersintime.com to discuss his career in shooting album covers. Glen talks at length about many covers, including the work he did for Rush's
Hold Your Fire
album cover and linernotes art. Glen tells how the original actor chosen to play "the juggler" was Dennis Hopper, and that the set piece still exists in his garage:
Hold Your Fire was my only Rush cover. In the mid to late 80s Hugh Syme and I collaborated on several projects. Hugh worked with Rush as their art director from very early on. We were both art directing conceptual album covers, although I was creating the images with photography, and at the time, Hugh was primarily a painter. The collaboration was an interesting and productive mix.

I often worked with miniature sets, and suggested the approach for staging the fire juggler. Many of the miniature buildings were recycled from a Yamaha advertising campaign featuring Michael Jackson, which I had created a couple years prior. I brought in my set team, who built a very impressive set, but very small, only four feet across.

I cast the fire juggler, this great character actor, Stanley Brock, who's mostly known for his role in the film Tin Men. We originally had Dennis Hopper on board, but kept running into scheduling conflicts.

I shot the miniature street scene in my studio on 4x5 film. The other elements were shot medium format with a Hasselblad. The fireballs are a basketball that was coated with rubber cement and torched. The dog, full size fire hydrant, and actor were shot separately. I combine all the elements with multiple exposures on 8x10 film in my darkroom, which was the primary method I used to combine images pre-digitally. When everything was combined together on one piece of film, it was sent out for a dye transfer print and final retouching, which was the typical workflow back then.

In the original version, we also flew in the boy who modeled for Hugh's painting for the Power Windows cover. He was seen looking out of the apartment window, but it was decided that he didn't really enhance the shot...there was so much going on. Earlier Rush covers are referenced in the image, and Power Windows was covered by the period TV sets in the room.

In hindsight, both Hugh and I regretted using that image in the inside of package. It was a little too "clever" using the three red balls for the cover, and leaving the more epic and memorable image for the inside of the packaging. While it might not look like it, the cover with the red balls is photography, as well. I had my set guys physically sculpt the RUSH text into a 4' x 8' surface that was then painted a high gloss red by an auto body shop. The printer combined the red billiard balls during the pre-press. I still have the set piece in my garage. I thought it would make a cool door.
You can
read the full interview here
. -
Thanks to RushFanForever for the headsup!