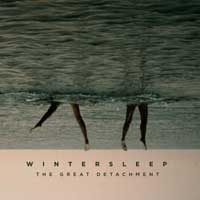 Geddy Lee makes a guest appearance on the track "Territory" on Wintersleep's new album,
The Great Detachment
, set for release March 4th (
order here
). You can hear the track below.
When Canadian indie-rock band Wintersleep were recording their new album, The Great Detachment, they got sidetracked chatting about their love for one of their country's most famous musical exports. "We were talking about how amazing Rush was ... and how incredible Geddy Lee is," Paul Murphy, the band's lead singer, told Rolling Stone. "He can sing these incredibly complex melodies with complex lyrics, while playing perhaps even more incredibly complex bass parts, while also operating foot pedals. If there was an instrument he could play with his eyeballs, I'm sure he'd be able to!"

Coincidentally, later that same night, the band ran into trouble while fine-tuning the bass line on one of the tracks, "Territory." "It was cool but the song didn't feel as lively as it should in the end," Murphy explains. "Someone was like, 'What would Geddy Lee do?' jokingly, and Tony [Doogan, producer] was like, 'Oh, the best bass player in the world? He'd make it incredible. Why don't we just ask him?'"

They did, and Wintersleep's "what if ...?" fantasy quickly turned into reality.

"Wintersleep contacted me a while ago and asked me to play bass on this track," Lee told RS. "I had a listen and loved the song and the vibe of the band. I had a blast laying down a bunch of takes and sent them off to them. I'm happy to support a fellow Canadian band and wish them all the best with their new album."

The result is "Territory" — no relation to the 1985 Rush song "Territories" — a muscular, hard-driving track that builds to a bright, yearning chorus. Lee's trademark gritty tone and melodic inventiveness are easily identifiable, but there's nothing showy about the performance; his bass lines blend perfectly with Loel Campbell's drums and provide a firm anchor for the rest of the track.

"The bass line we originally had for 'Territory' was just kind of playing the roots of the song," Murphy explains of Lee's contribution. "There was a sort of hook-line melody in the choruses, but that melody sort of combated with Tim [D'eon]'s lead line in a weird way. It's kind of an odd time signature, so it sometimes is hard thinking more creatively when a riff is long and kind of odd like that. In the end, the song just felt a little sticky and maybe a bit too dark, lacking the energy it needed. With a relatively dark lyric and a generous amount of minor notes in the progression, you have to be careful because it can just feel a bit dark and a bit too stone-faced or something.

"Geddy's part was perfect because it had this great groove and locked into the vocal melody in the song from time to time, bringing more weight to the melody in important spots. It added a certain playful dimension to the equation because it's so dynamic. Also, Tony was able to strip the song down more in the mix in sections because the bass had such a neat character and fuller sound, which was huge for the song dynamically."
- Thanks to Ed at RushIsABand for the headsup!