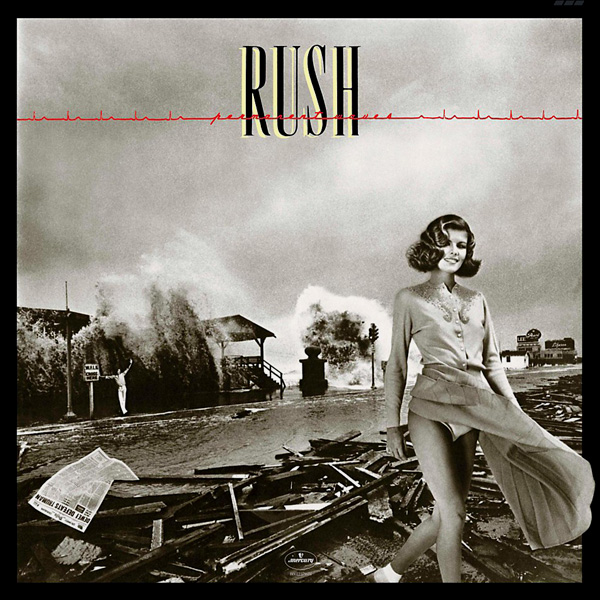 One intriguing aspect of Rush's albums is their album covers, and one of the most intriguing album covers to me has always been
Permanent Waves
. Let's face it, the scene showing a gorgeous smiling woman standing in the midst of all that destruction has always been a visual feast for the eyes.
"Permanent Waves is the result of a conversation which I had with Neil out at his home in the country. We spoke all evening about Rush growing up, and how we were going to do these EKG readings of each member as they were recording. We were going to tape their temples and chests and have real heartbeats of them while they were playing. So Permanent Waves was going to be a technical statement, and we were going to treat that with red and gold foil, and do a nice study in design- as opposed to a photographic thing. I walked out and, in the doorway, said 'Wait! Let's try something with Donna Reed, with her permanent Toni hairdo, and have her walking out of a tidal wave situation.' Neil gave me this blank look and said, 'Get out of here.' The following day, he asked me to consider doing just that because he'd discussed it with the band, and they'd all thought it was more likely for a cover than the serious approach." - Hugh Syme, Creem, 1983
By now we all know
the story behind the "Dewey Defeats Truman" newspaper headline
, but what about the rest of the cover?