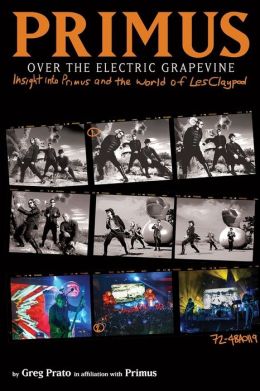 Geddy Lee is one of a host of musicians interviewed in
Primus, Over the Electric Grapevine: Insight into Primus and the World of Les Claypool
, the new book by Greg Prato. Set for release on September 16, you can
preorder your copy here
.
"Usually when the "alternative rock revolution" of the early 1990s is discussed, Nirvana's Nevermind is credited as the recording that led the charge. Yet there were several earlier albums that helped pave the way, including the Pixies' Doolittle, the Red Hot Chili Peppers' Mother's Milk, Jane's Addiction's Nothing's Shocking, and especially Primus' 1991 album Sailing the Seas of Cheese.

"This fascinating and beautifully curated oral history tells the tale of this truly one-of-a-kind band. Compiled from nearly fifty all-new interviews conducted by journalist/author Greg Prato—including Primus members past and present and many more fellow musicians—this book is sure to appeal to longtime fans of the band, as well as admirers of the musicians interviewed for the book.

"Interviewees include: Tim Alexander, Trey Anastasio (Phish), Matthew Bellamy (Muse), Les Claypool, Stewart Copeland (The Police), Chuck D (Public Enemy), Kirk Hammett (Metallica), Larry LaLonde, Geddy Lee (Rush), Mickey Melchiondo (Ween), Tom Morello (Rage Against the Machine), Chad Smith (Red Hot Chili Peppers), Matt Stone (South Park), Tom Waits, and many more."
- Thanks to RushFanForever for the headsup!