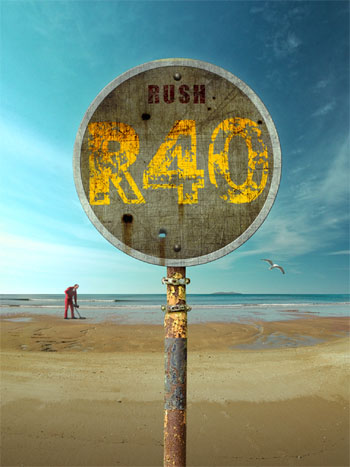 Rush's R40 40th Anniversary Collectors Box Set was released November 11th, and is available on both
DVD
and
Blu-Ray
. The collection opened up at #2 on
Billboard's music video sales chart
.
Click here for the linernotes
, including a new essay written for this collection by music journalist Martin Popoff.
R40 contains Rush's five most recent live videos (Rush in Rio, R30, Snakes & Arrows Live, Time Machine, Clockwork Angels Tour), as well as an R40 bonus disc containing oft-requested items from the vault as well as a 56 page hardback book.
The gem of this collection is the bonus disc, containing the complete Laura Secord Secondary School 1974 footage of which only three tracks have been previously available. Other rarities include Lock And Key 88 (an outtake previously only available on select versions of the A Show of Hands laserdisk), the Passaic NJ Capitol Theatre show from 1976 (previously seen in Beyond The Lighted Stage), and Rush at the Molson Amphitheatre in 1997 (a portion of the previously shelved Different Stages video), as well as the
I Still Love You Man
video from the Time Machine Tour and footage of the the Rock & Roll Hall Of Fame Induction in 2013. For additional details view
the official press release
.
There is a special edition of R40 available at both
RushBackstageClub.com
and
BestBuy.com
, which includes an 'R40 Completest' DVD which contains additional content from
the original R30 release
, that is not included in the standard R40 release. The
DVD edition
'R40 Completest' DVD contains: a) the eight songs not included on the original R30 DVD release; b) the Anthem "Church" video; and c) three songs from Molson Amphitheatre, June 30, 1996 which are in addition to those found on the standard R40 "Bonus Disc". The
Blu-Ray edition
'R40 Completest' DVD also contains the Anthem "Church" video and the three added tracks from Molson '96, but instead of the eight R30 tracks (which are already on the R30 Blu-Ray), it contains the bonus features found on the original R30 "Deluxe Edition" DVD which, while they are already included in the DVD edition, were not included on the Blu-Ray release in 2009 (and hence are not included in standard R40 Blu-Ray edition either).