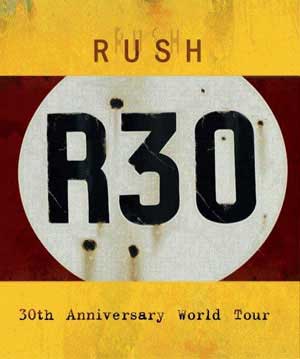 The R30 Complete Edition Blu-Ray
is released today, including Rush's complete concert from Frankfurt, Germany, on September 24, 2004. Unlike
the DVD release
which omitted Bravado, YYZ, The Trees, One Little Victory, Secret Touch, Red Sector A, La Villa Strangiato and By-Tor and the Snow Dog, those tracks have been restored to their original running order for this high definition release:
"Some of the songs were dropped from R30 due to technical reasons but also we didn't want to have too many similarities with Rush In Rio. Why not? Well, I think now that it was a dumb decision of ours. In fact I regret not having put the whole show on those disks. But I promise you, all those songs that were cut will eventually see the light of day, in some shape or form." - Geddy Lee, Aardschok Magazine, March 2006
Unfortunately, unlike the DVD release which includes a
bonus disk
containing over 1:30 minutes of interviews and bonus features, the Blu-Ray version contains the concert feature only.
Click here
for more information.