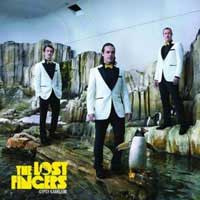 The Lost Fingers is a Canadian gypsy jazz music group from Quebec City. The group was nominated for two Juno Awards in the categories of Fan Choice Award and Album of the Year based on the success of their debut release,
Lost In The 80's
.
This past Tuesday The Lost Fingers released their latest album,
Gypsy Kameloneon
, which includes their take on "Tom Sawyer". Like all clever covers, upon close scrutiny one will find that all of the intricate parts are meticulously reproduced, albeit in a "gypsy jazz" vein.
- Thanks to Patric Lafortun for the headsup!