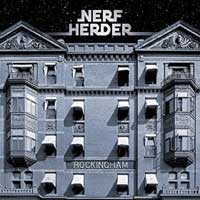 Check out the new track "The Girl Who Listened To Rush" by Nerf Herder from their new album
Rockingham
coming next week (
click here to order
). As confirmed in the official lyric video Youtube posting (embedded below), the backing tracks were recorded at New Monkey studios in Van Nuys, through the exact Trident A mixing console used by Rush to record many of their greatest songs.
This is not the first time they've name dropped the band in one of their songs; also check out their songs
"Golfshirt"
and
"High School."
- Thanks to John Patuto at Cygnus-X1.net for the headsup!