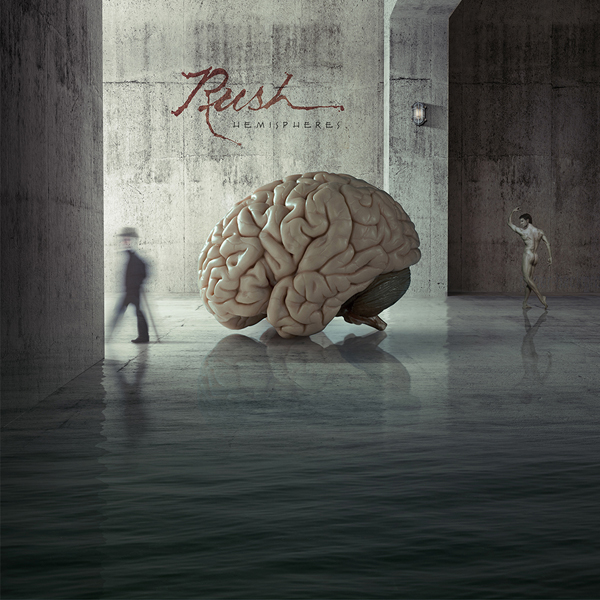 In
a new interview published Friday by MusicLifeMagazine.net
, among other topics Anthem/ole's Andy Curran talked about the upcoming
Hemispheres
and
Permanent Waves
40th Anniversary Reissues:
At the core of the Ole reissue have been a series of 40th anniversary editions of Rush albums, starting in 2016 with 2112, and followed up last year with A Farewell to Kings. Later this year will see the issuance of a package commemorating the 40th anniversary of the Hemispheres album, which features Rush concert favourites such as La Villa Strangiato, The Trees and Circumstances.
"For Farewell, we had some younger artists contribute versions of songs for that album, including Big Wreck, Billy Talent and Foo Fighters. But this time we wanted to do something different, so we dug deep into the archives over here at Anthem and were able to come up with a really cool live concert almost in its entirety from the Pink Pop Festival in 1979. In terms of a choice of rarities, this was a recording where if you searched diligently you might have been able to find bits and pieces of it online from people who had recorded it. We worked closely with the Pink Pop Festival and a radio station and television station in the Netherlands that broadcasted it and got the full show. Which was really cool, because Elvis Costello was on the bill, and so were The Police – a very eclectic lineup in 1979," he explained.
"But part of 2112 had been clipped off, so we found a full recording of 2112 where I think it was recorded from the board, from the same Hemispheres Tour in Phoenix, Arizona. Then there was also a bunch of really great photos that the band gave from their collection taken during the recording at Rockfield in Wales. Rich Chycki also did a great job remastering the album itself in 5.1. I think that the fans will be happy with it. The new art and all the images in the package by Hugh Syme are beautiful. I grew up with this band and loved them and used to go see them at Massey Hall and Maple Leaf Gardens, and some of the photos we got from the band's collection to put in the booklet excited me, so I know they are going to make a lot of fans happy."
As a true fan of Rush, Curran takes the job of compiling and re-releasing material very seriously, because he knows first hand the loyalty of the band's fans and the high standards to which Geddy Lee, Alex Lifeson and Neil Peart wish their legacy to be persevered. But it's also boatloads of fun being able to metaphorically and even literally root through the attic of your favourite band, finding hidden and long lost gems.
"There are times when I am literally pinching myself because, first off, I can't believe I am actually working with these guys, and secondly that they trust me with it. It's like being part of their inner circle. And then it's so amazing to find something that no one has ever seen or heard before. When you find something the is unique and special, it's very cool. There is some visual stuff that I am going through right now, that they documented during the time when I was literally a kid buying tickets and going to see them. One of the reasons I bought a Rickenbacker was because of Geddy Lee. My God, its like being a kid in a candy store at times," he said.
"My job is to make sure that we keep the integrity of what that band did and deliver first class stuff. Anything I find always has to go back to those guys for approval. Recently I found a recording from a hotel of something they did and Geddy looked at me after hearing it and said, 'the world can never hear that.'"
There will not be a 40th anniversary Rush re-issue in 2019, with the next one come in 2020 with a Permanent Waves package, but Curran said his boss at Ole, Robert Ott, has lot of projects for him, including a remastering and re-issuing of the first Coney Hatch album, and a possible second Max Webster package.
"There is also some talk about potentially doing an Anthem Records box set to celebrate four decades of the label. People may have forgotten some of the other artists they were involved with, whether it was B.B. Gabor, or Wireless or Ian Thomas or Larry Gowan, Bob and Doug McKenzie – there are so many cool things from that catalogue. So, we're deep into discussions about celebrating Anthem Records too.
- Thanks to RushFanForever for the headsup!