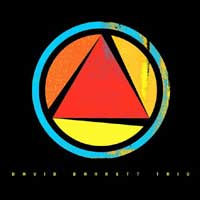 Two years in the making,
the new eponymous album
by the David Barrett Trio, produced by Alex Lifeson, Richard Chycki, and Alan Parsons, will be released tomorrow.
Click to here to order
.
The David Barrett Trio released three Alex Lifeson produced tracks on iTunes back in 2011: "Hollowbody", the trio's first single, was released March 15th; "Sonar" was released on May 24th, and "Disappearance", was released July 19th. Check out this pre-production session developing the ending for Great Eastern Sun, the last track on the album posted by the DBT this past January (
click here for part 1
;
part 2
).
In
"The David Barrett Trio Rocks Out, With a Little Help From Rush's Alex Lifeson"
posted to Rockethub.com on September 27, 2011, David talked about the project and his relationship with Alex Lifeson:
"In Jan. 2010, Alex listened to my latest acoustic album The Dead Arm and had some constructive criticism, but also offered to produce with the idea that I'd benefit from such an experience. Alex really insisted I use a band because he felt the music would develop more fully that way. I'm truly inspired because I'm working with a great rhythm section as a power trio, and my favorite guitar player is producing. I have Alex to thank not only for the production team, but also for renewing my interest in loud electric guitar, which is what I do best.

"I met Alex Lifeson's son Justin back in the early 1990's when I was recording with Mark Holmes at Jeff Healey's studio in Toronto. Justin's a great guy and an old Platinum Blonde fan, so he knew Mark from back in the day and dropped by the studio one evening to say hi. We became friends, and I got to know Alex sometime later. Over the years Alex has helped me out with gear, recording projects, and we've even jammed in his basement a couple times. The engineer on this project is Rich Chycki, and coincidentally, Rich was the house engineer at the Healey studio on all the sessions I did with Amanda Marshall and Mark Holmes. Rich also produced my first solo guitar record in 1995 called, Staring Into The Sun. I recommended Rich to Alex, ten years before he actually became Rush's main recording and mixing engineer!"
For more information on the David Barrett Trio,
click here
.
"Exactly a year ago, I played my new solo album The Dead Arm for guitar hero and mentor Alex Lifeson. He liked it and mentioned that maybe we should consider doing something together in the future. I agreed. He advised me to write a ton of music which we would then later sift through and pick the best tunes to develop. His other advice was to include some other musicians to further develop the songs. I asked Sascha Tukatsch to play drums and Jason Farrar to play bass. We arranged the music and worked really hard on it. Their contributions and enthusiasm have been truly outstanding! After the Rush Time Machine tour ended and Big Al was rested, we went into his studio and recorded three tunes: Hollowbody, Sonar, and Disappearance. Rich Chycki engineered. Rich produced my first solo album back in 1995, everything I've learned about recording I've learned from Rich, I don't think there's anyone better. And Big Al's approach to arranging, performance, and production was truly illuminating. We also had a lot of laughs in the studio, more than I can remember on any sessions I've ever done." - David Barrett, January 10, 2011