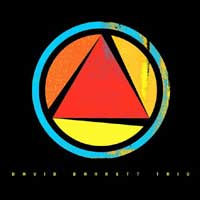 Back in February, the David Barrett Trio released
their eponymous debut album
, produced by Alex Lifeson along with Rich Chycki and Alan Parsons. David talks about working with Alex in the August issue of
Guitar Player
:
"Alex brought so much to the table at every stage of the process. When he first offered to produce, I gave him a bunch of demos that had layers and layers of guitar parts that sounded good, but he said, 'Look, you're going to need to be able to play this material in the trio setting, so we're going to have to edit stuff down to what's most important.' ... The funny thing is, it wasn't just about the logistics of the format. As soon as I started writing with the trio in mind, the material got way better and the arrangements just came together, which is exactly what Alex said would happen. Another thing he's a master at is knowing how to take an otherwise pedestrian-sounding riff and change one little element - maybe the key or the time signature - to give it an extraordinary quality. A wonderful example of this is the end of 'Great Eastern Sun'. The last section was originally going to be based on the same riff as a previous section, but Alex suggested we change the time signature by adding bars of 5/8 in certain places, and then he had us put the riff in a minor key. Before long, the song had evolved into what I believe is the best track on the record. Also, at the end of 'Sonar' there's this abrupt key change and solo, suggested by Alex, that wasn't on the original demo. Aside from his input on arrangements, Alex also had a big influence on how I tracked my parts. In the past, I had always tended to record at low volumes and tried to cut out noise, but he encouraged me to turn things up - sometimes to the point of feeding back in the studio monitors like on 'Hollowbody' - and it really freed me psychologically to be a little more in the moment."
The David Barrett Trio is available now from iTunes. CD's are available at
davidbarretttrio.com
.
- Thanks to RushIsABand for the headsup!