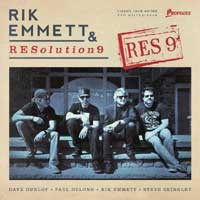 The highly anticipated
new album by Canadian guitarist, Rik Emmett, "Res 9" is now available. The album features Alex Lifeson on two tracks, playing a 12 string guitar on the album opener "Human Race", and the third guitar solo on "End of the Line". The album is
now available here.
"When Rik asked me to play on his new album, I didn't hesitate for a second. He's the consummate musician, a wonderful guitarist, and a terrific person, and it's always my pleasure to work with him any chance I can get. There is a rock purity in his songwriting and performance, and it's just so much fun to get together and throw ideas around. He's always so up and open for anything — even a notoriously uncooperative Rickenbacker 12-string!"- Alex Lifeson
On September 28th, Rik Emmett released a lyric video for the song "Human Race" featuring Alex Lifeson which you can watch below. He followed that up on November 3rd with a lyric video for "End of the Line", featuring Alex Lifeson and Dream Theater's James LaBrie.
See below for the official trailer as well as lyric videos for "Human Race" and "End of the Line".