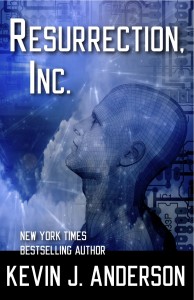 Yesterday author Kevin J. Anderson published the first two chapters of his first novel, Resurrection, Inc., to his blog for your review, along with the following introduction:
"My first novel RESURRECTION, INC. (originally published in 1988) has recently been reissued in eBook and in hardcopy. This book was inspired by the songs on the Rush album "Grace Under Pressure"—Someone to talk to and someone to sweep the floors; no swimming in the heavy water and no singing in the acid rain; suddenly, you were gone from all the lives you left your mark upon; are we the last ones left alive?; every muscle tense to fence the enemy within; one humanoid escapee, one android on the run; blind images flashing by, like windshields toward a fly….

"I see my novel, characters, and situations when I listen to the songs. You can order autographed copies from our webstore AnderZone Shop, including bundles with Clockwork Angels. EBook downloads in all formats from WordFire Press.

"Enjoy the first two chapters..."
Click here for more
.