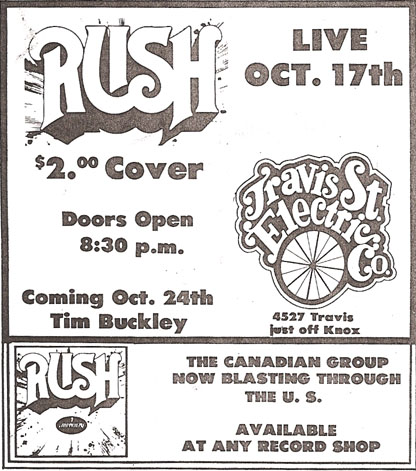 Ad from the 1974 Dallas show
Yesterday the Dallas News has posted a new interview
"Rush guitarist Alex Lifeson discusses the band's road less traveled"
. Mostly a Q&A about the current live DVD filmed in Dallas, he also looks back on Rush's first performance in on Oct. 17, 1974, at the Travis Street Electric Company:
"And I remember having such a great show in Dallas that night," says Lifeson. "We were playing a lot of our bar set — stuff we put together very quickly with Neil off the first show. We played 'Bad Boy,' the Beatles song. We were out with Uriah Heep, Rory Gallagher, Nazareth, relegated to a 20-minute, half-hour sets. So we would pick up these club dates where we would play for a couple of hours, and that was a really exciting night, because nobody knew who we were, and we won the crowd over that night. The place was just roaring by the end of it, and we all just thought, 'Texas is awesome!'"
Check out the full interview
here
.