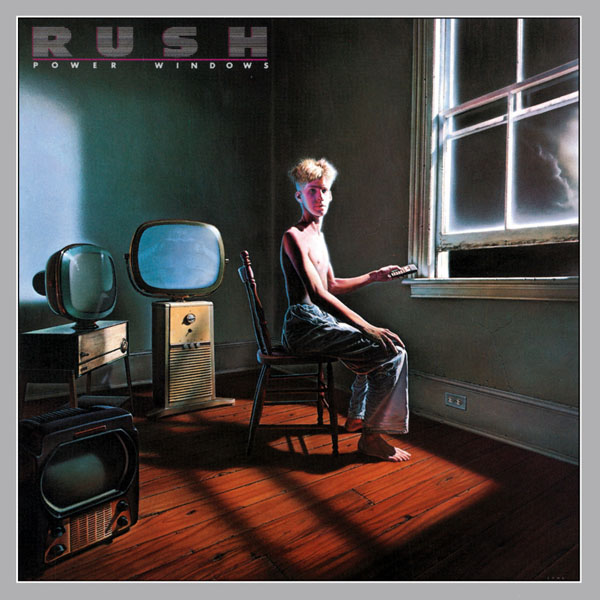 North American syndicated Rock radio show and website
InTheStudio: The Stories Behind History's Greatest Rock Bands
pushes the button on the thirtieth anniversary of Power Windows, the mid-Eighties million selling album from Rock and Roll Hall of Famers Rush that fully adopted an evolving sound complete with synthesizers and string arrangements.
1981's Moving Pictures had catapulted Rush to international stardom while capping off what was the classic '70s era Rush. 1982's Signals would signal the end of their longtime relationship with producer Terry Brown, and by 1985 Rush would take a new approach to the studio, with producer Peter Collins pushing the band to rethink everything, with spectacular results.
Rush lyricist/ drummer Neil Peart saw an uncanny number of socio-political issues to write about with songs like "The Big Money", "Manhattan Project", and "Marathon" while guitarist Alex Lifeson would breath new life into his guitar parts, stretching and creating news sounds for every new composition.
As bassist/vocalist Geddy Lee expresses to InTheStudio host Redbeard, Power Windows initially sounded like a silly name for an album, but it soon stuck.
"The album is about power ,the power of big business, of money. The power of government. The power of love in "Emotion Detector". The power of dreams. So we wanted to have that in the title somehow, but all of the titles sounded so corny... At one point we were going to call the album Windows, but it sounded too jazz -like. Nobody thought of Power Windows because it sounded so silly at first. It sounded like a joke. And the more we thought of it, the more we liked it. " - Geddy Lee
RUSH Power Windows @ 30/ InTheStudio interview is
now available to stream here
.