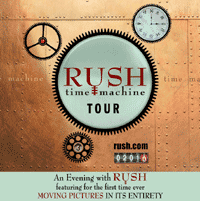 Total Guitar has posted another feature featuring Alex's Lifeson's live rig on the Time Machine Tour.
Check it out here
. - September 23, 2011
The 2010 leg of the Time Machine Tour kicked off June 29th in Albuquerque, New Mexico, and concluded October 17th in Santiago, Chile. The 2010 tour ranked #29 on Pollstar's
Top 50 North American Tours
, grossing $26.4 million with 372,407 tickets sold over 36 shows.
The 2011 leg of the Time Machine Tour kicked off March 30th in Ft. Lauderdale, Florida, saw the first ever filming of a US Rush Concert in Cleveland on April 15th, their first visit to Ireland, as well as stops in Canada, Scandinavia, Britain, Holland and Germany before coming to a close on July 2nd at The Gorge near Seattle, Washington.
Visit the
Time Machine Tour News Archive
for complete tour details including news and reviews, setlist, band comments, concert photos, videos, and essential links.