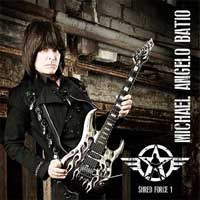 Click to Order
Michael Angelo Batio, considered to be a pioneer of the shred guitar genre, has released his first-ever career retrospective,
Shred Force 1: The Essential Michael Angelo Batio
. Highlighting his best work to date, it also brings together many nationally renowned musicians from the hard rock and heavy metal genres. The album features some of Michael's most memorable performances including a dynamic version of Rush's "What You're Doing," which features Queensrÿche vocalist Todd LaTorre, Metal Church guitarist Kurdt Vanderhoof, Alice Cooper bassist Chuck Garric, Metal Church/TSO drummer Jeff Plate and guitarist Craig Blackwell. An official audio stream of "What You're Doing" can be found below... You can order the album
here
.
- Thanks to the B-man for the headsup!