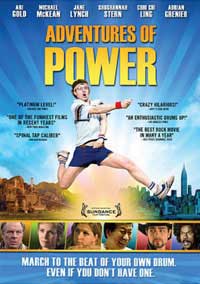 Adventures Of Power
is a comedy about one man's quest to prove his worth by winning an "air-drumming" competition. Often compared to Napoleon Dynamite crossed with Spinal Tap, the film is part comedy, part drama, with economic hardship and the need to prove one's worth juxtaposed against...air drumming!
For Rush fans, this film holds a treasure trove of goodies. The film includes a flashback scene where young Power is inspired to become a drummer after hearing "Tom Sawyer" on the radio. In addition, adult Power's bedroom is plastered with Rush and Neil Peart posters, and during one of the more hilarious scenes onlookers criticize Power for daring to air drum Neil Peart "without a stool". The coup de grâce comes at the end of the film, when Neil Peart himself has a rare cameo as the judge of the final air drumming competition; he must judge the performance of the most difficult air drumming song ever: "Tom Sawyer".
The film premiered at the Sundance Film Festival in January 2008, had its theatrical release on October 9, 2009, and
DVD release
on January 25, 2011. The DVD holds over 60 minutes of bonus features including three short films by Ari Gold (who also wrote and directed "Power"), deleted scenes, three music videos, a 25 minute interview and Power drum-off with Neil Peart, and a four-part "Power to the Power" behind-the-scenes feature. For a sneak peak, check out Ari Gold's
"Power Versus Peart" live video
.