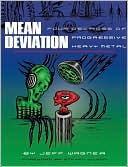 Rush is featured in the new book
Mean Deviation: Four Decades of Progressive Heavy Metal
which hit bookshelves last month:
"Revered former Metal Maniacs editor Jeff Wagner analyzes the heady side of metal in this exhaustive history of a relentlessly ambitious musical subculture. Beginning with 1970s progressive rock acts Rush and King Crimson, Mean Deviation: Four Decades of Progressive Heavy Metal unfurls a colorful tapestry of sounds and styles, from the 'Big Three' of 1980s prog metal—Queensrÿche, Fates Warning, and Dream Theater—to extreme pioneers Voivod, Watchtower, and Celtic Frost. The flirtation between heavy metal and progressive rock grows with bold creative leaps, spawning countless valiant launches toward infinity. Today, the spark of inspiration thrives in obscure outposts such as Scandinavia, Florida, and Japan, bursting into full flame with the successes of prog metal overlords Opeth, Meshuggah, Tool, Between the Buried and Me, and their progressive peers." Click here for more information.

- Thanks to RushFanForever for the headsup!