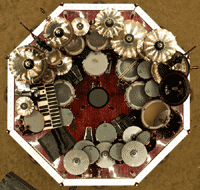 "Wendy Cosman Parlee has designed thousands of signs, logos, banners, and murals she started her custom graphics company Creative Advertising 24 years ago. But a recent project for Sabian endorser and Rush drummer Neil Peart has to be one of the most unique.
Parlee designed Peart's steampunk-style cymbals for Rush's 2010/2011 Time Machine tour. 'This is probably a once in a lifetime kind of deal,' Parlee admitted. 'I do my magic here, Sabian does their magic in the vault, then Neil does his magic on stage.'...Parlee had previously customized a gong for Slipknot and one for Alice Cooper drummer Jimmy DeGrasso, but they were much smaller projects.
...Once she had received emails from Peart detailing what kind of artwork he was looking for, Parlee went to Sabian's website for an overview of his kit and started superimposing designs on the images. The drummer also sent her the Time Machine Tour's logo for inspiration. 'He was so descriptive, I could grasp what he wanted,' she explained. 'He knew what he wanted right from the very beginning. He knew he was going with this alchemy idea, alchemy symbols.'
'It was quite an evolution,' said Love. 'We started with these really funky cog-like designs, but they took away from the sound. The ink we applied was too thick.' The first designs were in black, but were changed to copper to match with the copper hardware on Peart's custom-designed drum kit. The cymbals each have an alchemical symbol on them with the exception of the Paragon Ride 22, which has a clock face design. Adjustments continued to be made as the prototypes' sound quality still didn't meet Peart's expectations. 'They still weren't passing the sound test,' said Parlee. 'The challenge was to try to get something on the cymbals that would not impede the sound.'
Parlee created design stencils that were placed on the cymbals then filled in using a pad printing process. Pad printing is a manual process that involves taking each cymbal in hand and sliding it into place under the pad-printing machine. The ink from a plate is transferred by a pad that moves down to touch the surface of the cymbal. 'It keeps the ink really thin,' explained Love. 'It took two days for employees to apply the ink but keeps the integrity of the sound.'
The process is time consuming, so Sabian is not yet able to offer custom graphics commercially. 'Custom sounds we do every day. People call up and say they want a certain sound, but with graphics its a different story,' Love explained. 'This is the first step into that, but we can't go to market with it yet.'
Sabian made 50 Steampunk cymbals for the first leg of the Time Machine tour, then another 32 for the European leg of the tour." -
DailyGleaner.com
, February 15, 2011
For more, read Neil's story of the creation of the Time Machine cymbals
here
.