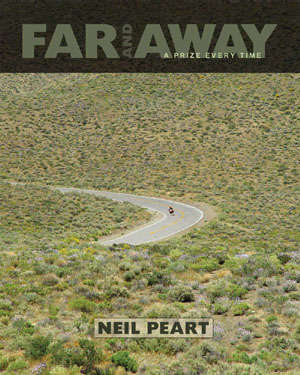 Q107 Toronto's Jeff Woods
interviewed Neil Peart on April 19th in Hamilton, Ontario, to discuss Neil's new book,
Far and Away – A Prize Every Time
.
They're Canada's #1 musical export to the world, and so not surprisingly, guitarist Alex Lifeson, bassist/vocalist Geddy Lee and drummer/lyricist Neil Peart, have been so busy touring over the past year, that they haven't had a chance to finish what they started: recording their 20th studio album; "Clockwork Angels". While recording is scheduled to resume fall 2011, in the meantime, RUSH's stock has never been so valuable, with thanks in part, to the acclaimed film, that tells the story of RUSH Beyond the Lighted Stage. It seems everyone has seen it, everyone that is, except their drummer. How could THAT BE? You will find out how, and much more, from this revealing conversation with Neil Peart, who set aside a half hour, back stage, to talk to me about all things RUSH, including the evolution of his drumming, the nature of his lyrics, his latest boo Far And Away – A Prize Every Time, performing live, and just why RUSH have keep doing what they do. And as Neil Peart is about to tell you, he only tours one way …. Enjoy, Jeff - Thanks to RushFanForever for the headsup!