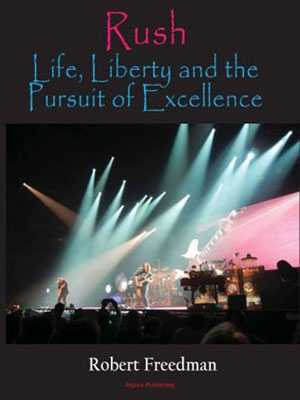 Robert Freedman, author of the
Rush Vault
website, is a journalist and communications professional who has just announced the publication of his book
Rush: Life, Liberty, and the Pursuit of Excellence
. The book is Freedman's analysis of the Aristotelian philosophy embedded in Rush's lyrics over their 40-year recording career, and can be purchased directly from the publisher
here
.
"Rush is often referred to as a libertarian rock band, but really what the band is channeling is an Aristotelian individualism, a philosophy that strongly resonates with today's 40-somethings. This helps explain the band's resurgence in popularity, culminating in its 2013 induction in the Rock and Roll Hall of Fame. 'Rush: Life, Liberty and the Pursuit of Excellence' brings together the excitement of the band's progressive music, performed by three musicians whose mastery of their instruments has won them the admiration of their peers, and the surprising philosophical sophistication of their music's lyrics. The book is a systematic look at the Aristotelian philosophy embedded in the band's lyrics over its 40-year recording career.

Although the topic of the book is academic, the writing is sharp, down-to-earth, and leavened with a dry wit. Anyone interested in the band's music, popular culture, and philosophical ideas simply explained will enjoy this entertaining and thought-provoking work.

As a cultural phenomenon, Rush is worthy of serious study, and although other books have looked at the philosophical character of the band's music, this is the first time the music over the band's entire 40-year career is demonstrated to fall under a single, unified theory: Aristotelian individualism.

Even readers who have pored over earlier books on Rush will enjoy this unifying theme. 'Rush, Rock Music and the Middle Class' (by Chris McDonald), says Rush is an avatar of middle class values. While the work ethic and value structure of the middle class is part of the band's philosophy, that is just a subset of the band's Aristotelianism, as shown by Robert Freedman here. The unified Aristotelian philosophy is also different from what's discussed in 'Rush and Philosophy' (edited by Durrell Bowman and Jim Berti) looks at the band's music through multiple philosophical filters and no attempt is made to look at the music through a single, unifying lens. Another book that studies Rush lyrics, 'Mystic Rhythms' (Carol Selby Price ad Robert M. Price), provides an interpretation of selected lyrics but does not systematically look at any philosophy. Rather, it approaches the lyrics as literary analysis and provides no overarching theoretical framework."
For more info,
visit the author's book page here
.
- Thanks Robert for the headsup!