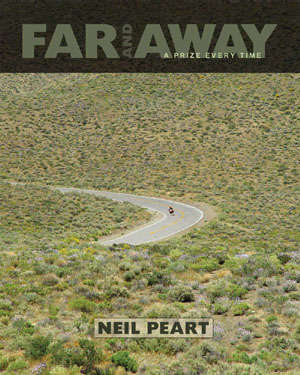 Neil Peart's
Far And Away: A Prize Every Time
, hit stores last April, and now, a new 2012 calendar is available for preorder at Neil's store, bubbawares.com:
"Bubba and his sidekick Brutus have put together some of their favorite images and excerpts from the book FAR AND AWAY: A Prize Every Time, by their friend and best customer, Neil Peart. (Among regulars, that book is affectionately known as "F 'n' A.") From Yellowstone National Park to the winter woods of Quebec to the highways of North America, South America, and Europe, each month offers a scenic escape and some words to ponder. Order now, in time for the Pagan Midwinter Festival!" bubbawares.com
Neil Peart's first book in over four years, is now shipping. Although it was originally slated for a May 1st release, it appears that April 1st was more appropriate. The 260 page book is a polished compilation of Neil's "News, Weather & Sports" blog entries from the last four years.
"Following in the tradition of Ghost Rider and Traveling Music, Rush drummer Neil Peart relates nearly four years of band tours, road trips, and personal discoveries in this introspective travelogue. From the ups and downs of a professional artist to the birth of a child, this revealing narrative recounts 22 adventures from rock's foremost drummer, biker enthusiast, husband and father. Both playful and insightful, Peart's love of drumming and the open road weaves throughout the stories as Neil explores horizons that are both physical and spiritual, sharing his observations about nature, society, and the self. Full-color photos round-out this tour of the open road that will resonate with Rush fans and motorcycle enthusiasts alike." - ECW Press
"I have long wanted the stories I write for this department to be 'dignified' and made permanent by appearing in print, and at last I made it happen. Typically, it turned out to be a much bigger job than I anticipated, but—everything does, if you aim high enough. Once I had found a publisher and stipulated that the book had to be in print before the tour's continuation in late March, they gave me a list of requirements: I needed a title and subtitle, which would help direct the design of a cover, which I would develop with Hugh Syme, as usual. I would have to write a new introduction and afterword, supervise various copy elements for the jacket and flaps, choose photographs for them, find all the text and photograph files for each of the twenty-two stories, then read over the copyedited text, the typeset text, and finally the corrected text. All in all, it was a solid two months of work, but I was delighted to see it truly coming together—a collection of stories that had been written and published independently now took on a unity, a single narrative span, that covered almost four years of my life. At first I had been daunted by having to write the 'Intro' and 'Outro,' but they proved to be the keystones in framing the twenty-two individual stories, to make it feel like one...The cover photograph I chose was taken by our Master of All Things Creative, Greg Russell, while he and I were riding together in Central California in 2008, on the Snakes and Arrows tour. The setting is the Westgard Pass, between Nevada and California, and at the time of using the photograph in a story called 'South by Southwest,' I remarked that it was the kind of spacious photo you didn't often see in motorcycling magazines. (They tend to focus on the hardware.) However, this panorama certainly captured an element of what I love about motorcycling, and nicely exemplified the title, and the subtitle." - Neil Peart, neilpeart.net, February 4, 2011
Related News: