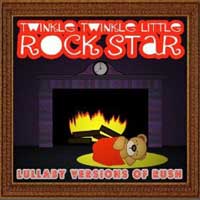 There are a few recording artists currently producing lullaby versions of popular music. Earlier this year, one of these artists, "Twinkle Twinkle Little Rock Star", released an album of Rush covers.
Lullaby Versions of Rush
holds 11 tracks of blissfully sleepy renditions of Rush. What's that you say? "The Spirit of Radio fills me with adrenaline, how can it put me to sleep?" Trust me, these tracks are dripping with snooze
.
- Thanks to RushFanForever for the headsup!
Tracklist:

The Spirit of Radio, Tom Sawyer, Closer To The Heart, Freewill, Limelight, Working Man, Fly By Night, The Trees, Red Barchetta, Subdivisions, YYZ
For other Rush cover albums,
check here
.