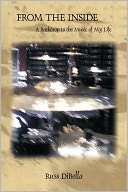 From The Inside
is a new book by Russ DiBella about a life of looking inside the world of live music, going backstage and collecting drumsticks - with Rush being the most covered band. With detailed stories from three recent Rush tours (R30, Snakes & Arrows and Time Machine) it includes stories of chance meetings with Alex, Geddy and Neil and an interesting and rare opportunity of catching a soundcheck during the
Snakes & Arrows
tour. From the back cover:
"In 1978, when music found its way into Russ DiBella's life largely by way of external circumstances, a natural progression of sorts began to unfold which would eventually marry his affection for words with a nascent interest in drumming and lyric writing. What began as a teenage rite of passage - his first rock concert - would spawn a lifelong passion for all things music, manifesting itself in ways both deliberate and unanticipated.

Part memoir and part backstage pass, From The Inside is actually written from the perspective of an outsider looking in - although very often and surreptitiously from within. With a detailed history of how music became such an actively integral part of his life and an in-depth, behind-the-scenes look at several concerts (to include a respectable gathering of drumsticks along the way), DiBella recounts with enthusiasm and occasional humility more than thirty years of experiences as admirer, accomplice and collector.

Less a narrative about unofficial access to 'rock stars,' From the Inside sneaks a peek behind the proverbial curtain to discover some of the inner workings of live concerts. Meeting drum techs, guitar techs and other assorted crew and band members and observing load-ins, soundchecks and even a few shows from the other side of the stage offers an intimate look at activities otherwise inaccessible to the typical concert-goer.

Not wanting for moments of rock'n'roll flash, encounters with rockers Mick Jagger, Eddie Van Halen and Neil Peart as well as country artists Brad Paisley and Montgomery Gentry among many others provide additional insight and add elements of celebrity to this otherwise personal account.

Clearly written with an appreciation both for the songs and the artists who have inspired him, From The Inside is the story of a life examined through the lens of music."
The book is available in both hardback and paperback
here
; in addition signed copies can be purchased by contacting the author at
russdibella@hotmail.com
.