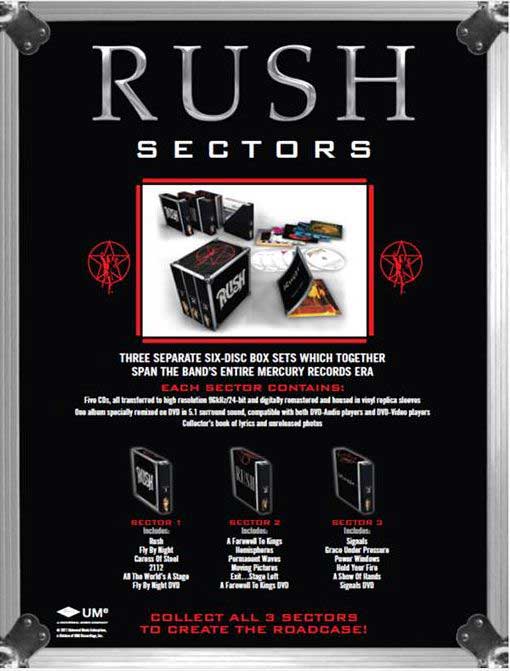 UPDATE: Rush.com has announced that the replacement disks for the Sectors boxed sets are now available:
"Replacement 'Fly By Night' CDs and 'A Farewell To Kings' DVDs are now available.
For US & Canadian fans, please contact Universal customer services team on:
e-mail: FishersCustSvc@umusic.com
Phone: 1-800-288-5942

For fans in the UK & Ireland please contact:
UK e-mail: mk.customerservices@umusic.com
UK Phone: +44 (0) 845 250 0965

For fans in Germany please contact:
Germany e-mail: rush@universal-music.de

For fans in any other country please contact your original Sector store where you made the purchase for assistance in getting your replacement discs. Universal will ensure corrected discs get to the Sector-buying fans worldwide as soon as they possibly can." - Rush.com, February 7, 2012
The band confirmed the problem back in December, shortly after the sets first went on sale:
"We are aware of some slight technical issues surrounding the CD of 'Fly By Night' inside the Sector 1 box set release and the DVD for 'A Farewell To Kings' inside the Sector 2 box set that some fans are experiencing. It stems from a production flaw and it is currently being addressed. As soon as production is completed a formal announcement of how to replace the discs will follow shortly. Please be aware that there may be a time delay in shipping and receiving the disc and we sincerely apologize for this inconvenience – Geddy, Alex & Neil" - December 2, 2011
SECTOR 1: Rush, Fly By Night, Fly By Night (5.1 DVD), Caress of Steel, 2112, All The World's A Stage - buy now
SECTOR 2: A Farewell To Kings, A Farewell To Kings (5.1 DVD), Hemispheres, Permanent Waves, Moving Pictures, Exit Stage Left - buy now
SECTOR 3: Signals, Signals (5.1 DVD), Grace Under Pressure, Power Windows, Hold Your Fire, A Show Of Hands - buy now
In
a new interview with Masterdisk Chief Engineer Andy VanDette
, Andy discusses the new remasters completed for the new Sectors boxed sets. Andy tells how through Richard Chycki he first was brought in to master Snakes & Arrows Live in 2007, and has also mastered all other Rush releases since that time. He briefly discusses the state of the original master tapes, the previous Rush remasters, and issues that were discovered in the remastering process. Click here for more. -
themasterdiskrecord.com
, November 28, 2011
Rush.com has added two interviews featuring Mercury-era interviews with Geddy, Alex & Neil, compiled from the archives of InTheStudio.net in celebration of the Sectors Box set release.
Multiple wallpaper images from the boxed set booklets have been added to the Desktop Wallpaper page. - Thanks to John @ Cygnus-X1.net for the raw images!
Universal Music has confirmed all 15 albums were remastered in 96/24 then downconverted for CD in 44.1/16; only the DVD has the full 96/24 lossless audio. However, all 15 albums are going to be available as full 96/24 downloads at HDTracks.com for about $18 each.
Click here for the preview trailer.
"Universal Music Enterprises (UMe) celebrates the legacy of Canadian rock trio Rush with the release of three separate six-disc box sets which together spans their entire historic Mercury Records recording career. Each "Sector" contains five of their 15 Mercury albums in chronological order, all transferred to high resolution 96kHz/24-bit audio and digitally remastered for optimal quality. In addition, each volume includes an exclusive booklet packed with unpublished photos, original album lyrics and credits, and features one album from each set specially remixed on DVD in high resolution 96kHz/24-bit, 5.1 surround sound and stereo, compatible with both DVD-Audio players and DVD-Video players. Each album is packaged in a replica vinyl mini-jacket of the original album release with all three box sets forming a Rush CD road case." -
Sectors Press Release
"Based on the strong feedback from the Moving Pictures 5.1 remix, Universal Records had asked me to remix Fly By Night, A Farewell To Kings and Signals in surround to be included in their 'Sector' series of box set releases currently underway. Like Moving Pictures, all the multitrack masters I worked with were transferred from the original analog tapes at 96 kHz/24 bit resolution and this quality was maintained right down to the finished master. Listeners are in for a revelation of new detail for these releases." - Richard Chycki,
richardchycki.com
, October 15, 2011