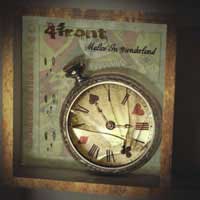 Joe Bergamini, senior drum editor with Hudson Music and co-producer of Neil Peart's
Taking Center Stage
DVD, who appeared with him in it as interviewer, is also a talented drummer for the instrumental progressive rock band 4front. Both Bergamini and 4front's guitarist/keyboardist Zak Rizvi were with the popular New York based rush tribute band "Power Windows" for 11 years.
Their new album, "Malice in Wonderland", is
now available
; checkout a preview track
"Big Scary Monster"
now. The album includes the song "Many Places in a Rush", a tribute to Rush, and features album art designed by Rush's long time art designer Hugh Syme.
"4Front is an instrumental progressive rock band that combines the classic sound of prog with many other stylistic elements to create cinematic soundscapes that will capture your imagination. Combining top-notch playing, intricate arrangements, odd time signatures, and symphonic themes, 4Front prides themselves on being accessible to the regular rock listener via a strong focus on songwriting, not just technical playing. Fans of Rush, Dream Theater, Kansas, Symphony X, The Dixie Dregs, and Genesis will feel like they have known this band forever. But 4Front's pallette of influences is much deeper, ranging from Billy Joel and Joe Jackson to film composers like John Williams and Randy Newman." For more info visit www.joebergamini.com/ or www.facebook.com/4frontband.