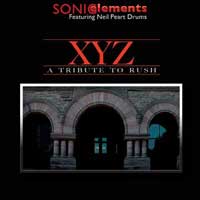 UPDATE April 21: The
download version
of Sonic Elements
XYZ - A Tribute To Rush
featuring Neil Peart Drums is now available from
esoundz
. The
CD
version will be shipping soon.
Sonic Reality's
Neil Peart Drums
is a sample library featuring recordings of Neil Peart playing the
Snakes and Arrows
' Custom DW Drum Kit. The
Sonic Elements
project was put together by Sonic Reality CEO Dave Kerzner featuring various musicians from around the world playing classic rock covers and originals using the library samples. For more info, check out
Everything You Wanted To Know About Sonic Reality's Neil Peart Drums: An Interview With Dave Kerzner
by Andrew Olson.
You can purchase the music on CD or download, or you can download Neil Peart Drums to do a virtual jam with him yourself! All is here:
http://www.esoundz.com/neilpeartdrums
(XYZ can be ordered at the bottom of the page).
Tracklist:


1) Tom Sawyer: Vocals, Guitar - John Wesley (Porcupine Tree); Keyboards - Dave Kerzner; Bass - Billy Sherwood
2) Red Barchetta: Vocals, Guitar - Rik Emmett (Triumph); Keyboards - Dave Kerzner; Bass - Matt Dorsey
3) YYZ: Guitar, Bass - Billy Sherwood; Guitar - Alastair Greene; Keyboards - Dave Kerzner
4) Limelight: Vocals - Randy McStine; Guitars - John Wesley; Keyboards - Dave Kerzner; Bass - Billy Sherwood
5) Trifecta (Bonus Track): Guitars, Bass - Billy Sherwood; Keyboards - Dave Kerzner
6) Times Gone (Pre-Order Only Bonus Track): Guitars, Bass - Billy Sherwood; Keyboards - Dave Kerzner
On all: Drums - Neil Peart Drums by Sonic Reality

"I completed a track in Mike Shotton's studio for Sonic Elements, and a company called Sonic Reality, where I played and sang the Rush song 'Red Barchetta' along with digital drum tracks performed by Neil Peart, and bass guitar from Matt Dorsey. There's been a lot of hoo-haw about this, but it was just an afternoon of personal rehearsal, followed by an afternoon of studio fun. It was an entertaining challenge, like being in a digital-age cover band, singin' Geddy lines and playing Alex parts." - Rik Emmett, enewsletter, December 1, 2011