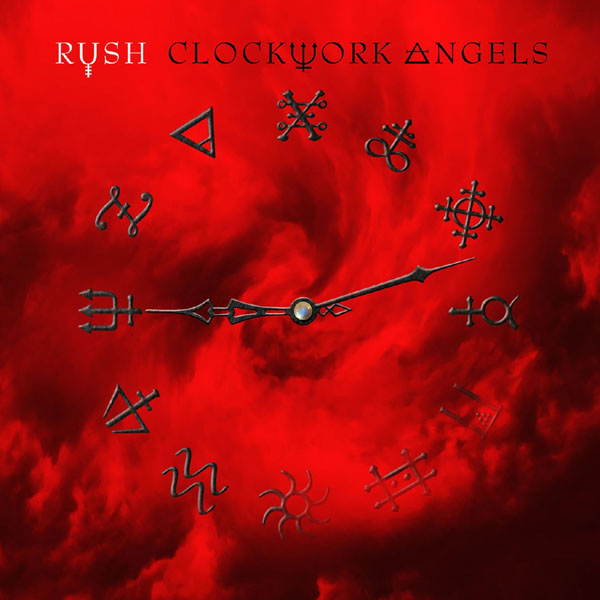 RUSH.com
has been updated, including the following press release:
CELEBRATED ROCK TRIO'S FIRST STUDIO ALBUM IN FIVE YEARS SET TO ARRIVE ON JUNE 12TH

NEW SINGLE "HEADLONG FLIGHT" LANDS AT ROCK RADIO ON APRIL 19TH

Rush has unveiled details of its highly anticipated, new album, "CLOCKWORK ANGELS." This is the first new collection of original material in over five years and their first studio release via Anthem/Roadrunner records. "CLOCKWORK ANGELS," the band's 20th studio album, will be released on June 12th.

The recording of "CLOCKWORK ANGELS" began in April 2010 with Grammy Award winning producer Nick Raskulinecz (Foo Fighters, Deftones) – who also collaborated with the band on their last studio album, 2007's "SNAKES & ARROWS." Rush co-produced both records. The first two songs, "Caravan" and "BU2B," were completed during that first session at Nashville's Blackbird studios and performed nightly during the wildly successful Time Machine Tour, which ran from June 2010 to June 2011. Work on "CLOCKWORK ANGELS" resumed in the fall of 2011 at Revolution Recording in Toronto after the tour's finale, with additional strings (arranged by David Campbell) recorded at Hollywood's Ocean Way Studios earlier this year. Lyrically, "CLOCKWORK ANGELS" chronicles a young man's quest across a lavish and colorful world of steampunk and alchemy as he attempts to follow his dreams. The story features lost cities, pirates, anarchists, an exotic carnival, and a rigid Watchmaker who imposes precision on every aspect of daily life. The novelization of "CLOCKWORK ANGELS" is being written by science fiction writer Kevin J. Anderson in collaboration with Rush drummer and lyricist Neil Peart.

Rush will herald the release of "CLOCKWORK ANGELS" with a new single "Headlong Flight" landing at rock radio on April 19th. Details of a full-scale North American tour to support the new album will be announced shortly. - Rush.com, April 11, 2012
Tracklist: 1. Caravan

(5:40)

; 2. BU2B

(5:10)

; 3. Clockwork Angels

(7:31)

; 4. The Anarchist

(6:52)

; 5. Carnies

(4:52)

; 6. Halo Effect

(3:14)

; 7. Seven Cities Of Gold

(6:32)

; 8. The Wreckers

(5:01)

; 9. Headlong Flight

(7:20)

; 10. BU2B2

(1:28)

; 11. Wish Them Well

(5:25)

; 12. The Garden

(6:59)
More details are included in this exclusive by PROG magazine:
"...And on this new album, Neil Peart got inspiration for his lyrics from a variety of authors, including Voltaire, Cormac McCarthy, Michael Ondaatje, Joseph Conrad and Daphne Du Maurier...In addition, Peart became fascinated with ancient traditions, which also had an impact on the album. 'I learned about an entire set of runic hieroglyphs for elements and processes,' says Peart. 'As the lyrical 'chapters' came together, I chose one symbol to represent each of them.' You can see these symbols in the clockface on the album cover, which has been painted by Hugh Syme. Geddy Lee and Alex Lifeson worked on the music in a basement studio, with Lifeson sometimes giving Peart two demos for specific tunes. One of these would feature a drum machine to outline certain rhythmic ideas, while the other had just a click track. And on one song, The Wreckers, Lee and Lifeson swapped over instruments during the writing sessions." - Rush New Album Exclusive - ProgRockMag.com, April 11, 2012
Although not yet announced, we have also learned that the album will be available on
HDTracks.com
in lossless 96kHz/24-bit FLAC.
Updates/Related News: