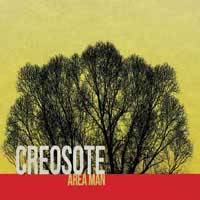 Creosote's Area Man
, the debut solo album by Gord Smith, who also happens to be the bass player for Jason Plumb's backup band, The Willing, hits store shelves March 27th. One of the tracks on the album is a cover of Rush's "Mystic Rhythms".
"Originally from Toronto's suburban sprawl, Smith has been in Regina most of his life. After losing his father at 12, his mother encouraged his interest in music by getting him his first drum set. Being a huge Rush fan early on contributed to his dedication to learning how to play...Pulling in his Canadian rock roots, Smith decided to cover a Rush song mostly because nobody else is ambitious enough to try. 'I picked a song that was in their late 80s keyboard funk, which was panned by fans. The songs are still there.' Rush's original 'Mystic Rhythms' is a mid-tempo synthesizer and keyboard-driven song. Smith turned in into the guitar-driven rock song he thought it should have been. He got to gush to Rush's Alex Lifeson about breathing life into the song while recording Jason Plumb and the Willing's new album All Is More Than Both." - Soccermomrecords.com
Thanks to RushFanForever for the headsup!