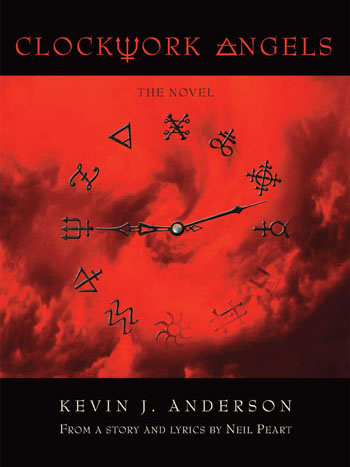 Preorder Now
Here is the official press release for
Clockwork Angels: The Novel
from ECW Press
. Note, this announcement includes the news that the novel will also be released as an audiobook narrated by Neil Peart.
LANDMARK CROSSOVER PROJECT:

NEW RUSH ALBUM CLOCKWORK ANGELS TO FEATURE ACCOMPANYING NOVEL BY BESTSELLING AUTHOR


The new Rush studio album, Clockwork Angels, is accompanied by a full-length

"steampunk"

novel written by bestselling SF author Kevin J. Anderson and Rush drummer and lyricist Neil

Peart

.

In an innovative combination of music and literature, the new album Clockwork Angels by legendary rock band Rush has been converted into a full-length

"steampunk"

science fiction novel by international bestselling SF author Kevin J. Anderson and Rush drummer and lyricist Neil

Peart

.


The music throughout the Clockwork Angels album—the band's 20th studio album—forms the backbone of a colorful adventure story, which is now fully realized in Clockwork Angels: The Novel (ECW Press, hardcover, September 2012). The story tells of a young man caught between the grandiose forces of order and chaos. On a quest to follow his dreams, he travels across a lavish and colorful world of steampunk and alchemy, with lost cities, pirates, anarchists, exotic carnivals, airships and steam engines, and a rigid Watchmaker who imposes precision on every aspect of daily life.

Anderson (who has over 50 national and international bestsellers to his credit and has recently been named 2012's Grandmaster by the International Association of Media Tie-In Writers for lifetime achievement in the field) has often been influenced by music, particularly Rush. His first novel, Resurrection, Inc., was directly inspired by the Rush album Grace Under Pressure, which sparked a long-term friendship with Peart. "You can find Rush references sprinkled through many of my Dune novels, the Saga of Seven Suns, my Terra Incognita trilogy," Anderson says. "Probably more than even I can identify, because the music is so intertwined in my imagination."

Peart, an accomplished author in his own right (Ghost Rider, Roadshow, Far and Away) and Anderson already co-wrote a short story, "Drumbeats" (WordFire Press), but the pair have always been looking for something more ambitious to combine their creative interests and talents.
Peart is also an avid reader of Anderson's fiction. "For something like 20 years, Kevin and I discussed working on a project together that would marry music, lyrics, and prose fiction," he says. "The right idea and timing eluded us for a long time, but at last, both converged perfectly." Clockwork Angels: The Novel seemed a natural.

Peart approached Anderson with the idea several years ago, when Rush was in the early stages of creating the album. As the lyrics and music were completed, the two brainstormed the story, characters, setting, adventures, and ideas, sometimes with a flurry of a dozen e-mails per day. The artist Hugh Syme—who created eight illustrations for the CD booklet and original works for the novel—also provided inspiration.
"This is a dream project for me," Anderson says. "I have always envisioned epic stories when listening to Rush music, and now working with Neil, it's possible to translate those stories to the printed page. Clockwork Angels: The Novel turned out even better than we had hoped. I think it's one of my very best books."

"As my 38 years with Rush will attest, I very much enjoy collaboration with like-minded artists," Peart says. "Working up this story with Kevin was one of the easiest, yet most satisfying projects I have ever shared—easiest, because we almost always simply agreed with each other's ideas, and most satisfying because I am so proud of the result."

The recording of Clockwork Angels began in April 2010 with Grammy Award–winning producer Nick Raskulinecz (FOO FIGHTERS, DEFTONES) — who also collaborated with the band on their previous studio album, 2007's Snakes & Arrows. RUSH co-produced both records.

In 2010, Rush released the first two tracks from Clockwork Angels, "Caravan" and "BU2B," which formed the cornerstone of new material around their highly successful "Time Machine" world tour. The next single from Clockwork Angels, "Headlong Flight," was recently released and immediately became #1 at Classic Rock radio. The lyrics of those songs somewhat frame the story for what is Clockwork Angels: The Novel.

The album will be released on June 12. Clockwork Angels: The Novel will be in stores in September to coincide with the launch of Rush's North America tour. ECW Press will publish the book in hardcover with full-color illustrations by Syme; the audiobook will be available from Brilliance Audio, narrated by Neil Peart.