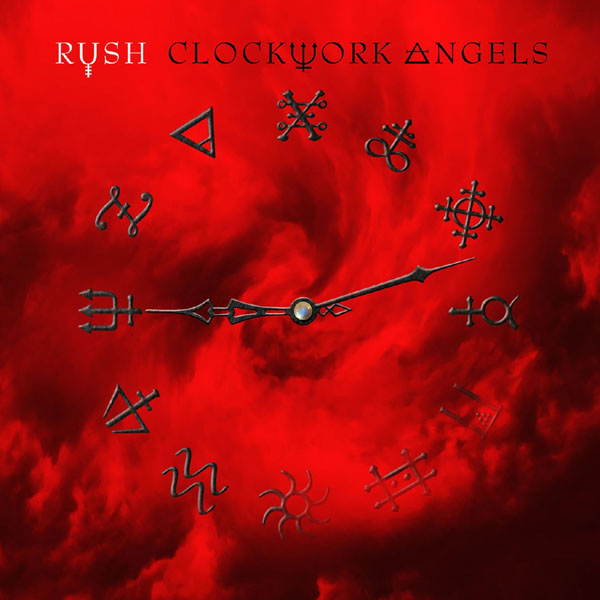 RUSH's
Clockwork Angels debuted at #2 on the Top 200
with 103,000 sold the first week. In terms of actual detailed numbers, the morning of June 20th SoundScan reported the following: Total: 104,707; LP (Vinyl): 2,361; CD: 72,007; Digital: 30,339. Meanwhile up in the Great White North,
Clockwork Angels
debuted at #1 with 19,625 copies sold; LP (Vinyl): 367; CD: 14,311; Digital: 4,947.
After eight weeks,
Clockwork Angels
rose back to #13 on the Billboard Top 200, thanks to a $0.99 MP3 album sale at Amazon.com during week 7; the album previously rested at #70 on the chart, and dropped like a rock all the way back down to #81 for week 9.
Clockwork Angels
dropped out of the Billboard Top 200 after spending 20 weeks on the chart. Weeks 19 and 20 it held on at #163 but finally dropped off after week 20. For the current chart info visit
Billboard.com
- November 10, 2012
"At No. 2 on the Billboard 200, rock band Rush clocks its best sales week in 10 years as "Clockwork Angels" debuts with 103,000. The group last sold more when 2002's "Vapor Trails" bowed at No. 6 with 110,000. "Clockwork Angels" is Rush's second album to hit No. 2, following 1993's "Counterparts." A No. 1 album continues to elude the act" - Billboard.com, June 20, 2012
"Legendary rock band Rush has made a remarkable U.S. chart debut with their 20th studio album "CLOCKWORK ANGELS." The renowned trio's first new collection of original material in over five years and their first studio release via Anthem/Roadrunner Records has entered the SoundScan/Billboard 200 at #2 with sales in excess of 104,000 units, matching the highest chart debut of their illustrious 38-year career. "CLOCKWORK ANGELS" has also debuted at #1 in the band's native Canada. In other international news, the album has already achieved the band's highest chart debuts in over a decade from Japan - #2, Norway - #10, Germany, Holland - #11, and Switzerland - #21. In addition to the commercial success, "CLOCKWORK ANGELS" has also received a raft of critical acclaim, including Rolling Stone and USA Today who heralded the release as "an ambitious, sophisticated effort by a band that sounds surprisingly vital after 20 studio albums." In the UK -- where the album was also released as an exclusive non-chart eligible fan pack format which included a 132 page booklet covering the entire history of the band -- "CLOCKWORK ANGELS" garnered a 5 out of 5 review in The Sun, Britain's largest newspaper. Had the 40,000 fanpacks sold been chart eligible, the album would have debuted at #1 in the UK as well." - MarketWatch.com, June 20, 2012
"The legendary Toronto prog-rockers' 20th studio album debuted at No. 1 with sales of 20,000, according to data provided by Nielsen SoundScan. 'Angels' is the Holy Trinity's first studio album since 'Snakes & Arrows,' which went gold in Canada back in 2007." - Toronto Sun, June 20, 2012