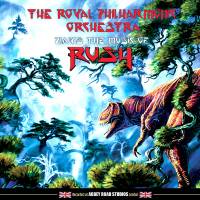 The
Royal Philharmonic Plays The Music Of Rush
, by the world-famous Royal Philharmonic orchestra, is
now available (click to purchase)
.
Tracklist:

The Spirit Of Radio, Tom Sawyer, Limelight, Working Man, Fly By Night, 2112 Overture, Closer To The Heart, Subdivisions, Red Barchetta

"From the world-famous orchestra that brought you symphonic interpretations of Queen, Pink Floyd and ABBA comes a brand new set of studio recordings celebrating the music of Canadian Prog Rock legends, Rush! Includes dramatic reinterpretations of the Rush classics Tom Sawyer, The Spirit Of Radio, Red Barchetta, Limelight and more! Conducted by BAFTA award winning musician and composer Richard Harvey!" - Official Press Release
Bravewords.com
has published additional details regarding this release:
Purple Pyramid Records (a division of Cleopatra Records) will release THE ROYAL PHILHARMONIC ORCHESTRA Plays The Music Of RUSH on November 13. Nearly sixty musicians and thirty vocalists transform nine of Rush's greatest hits into even more intricate, soaring orchestral works.

The RPO covers the best-known classics, from 'Working Man', the self-titled debut album track that launched Rush's career in the US to 'Subdivisions' from Signals, the album that proved electronic rock could reside in the top ten. The band's most successful record, Moving Pictures, is represented by rousing versions of 'Tom Sawyer' and 'Red Barchetta'.

The Canadian trio known as Rush has been recording and touring for more than forty years. Rush has earned 24 gold and 14 platinum (three multi-platinum) records. They are third (behind The Beatles and The Rolling Stones) for the most consecutive gold or platinum studio albums by a rock band, and have sold more than 40 million units worldwide. Rush has won many Juno Awards and was a 1994 inductee to the Canadian Music Hall of Fame. Geddy Lee, Alex Lifeson, and Neil Peart are consistently acknowledged as some of the most proficient musicians in music today.

The RPO, formed in 1946 and based in London, has been called The Nation's Favourite Orchestra. It has had internationally known maestros like Andre Previn and Louis Clark, and has toured the world. The RPO is a best-selling and adventurous recording entity as well. In 1969, it recorded a concerto for DEEP PURPLE, composed by the band's organist Jon Lord. It earned a top ten U.S. single in 1982 with Hooked on Classics. Over the years, RPO has orchestrally arranged PINK FLOYD, OASIS, QUEEN, R.E.M., MADONNA and ABBA.

Special guest guitarists include Steve Rothery of MARILLION on 'Working Man' and Adrian Smith of IRON MAIDEN on 'Red Barchetta. The Windrush Choir provides backing vocals and solos.

The Orchestra was recorded at the legendary Abbey Road Studios in London, conducted by BAFTA Award-winning musician and composer Richard Harvey. Harvey performed with the prog rock group Gryphon and as an accomplished multi-instrumentalist (specializing in mediaeval and Renaissance periods), worked with many folk and rock musicians such as Richard and Linda Thompson, Kate Bush, and Sweet. He has toured and recorded with John Williams, and has performed and composed film/TV soundtracks for more than thirty years. The album was produced by James Graydon and Richard Cottle, who also arranged all the music.

Listen to '2112 Overture' at this location
- Thanks to Ed at RushIsABand for the headsup!