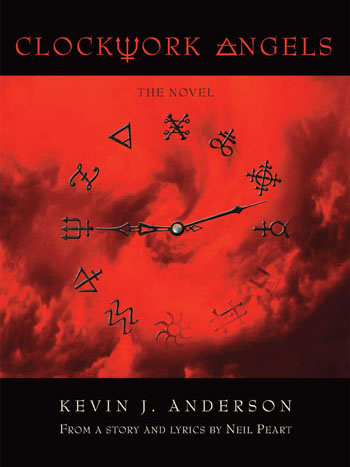 RockCellarMagazine.com has published
a new interview
with author Kevin J. Anderson where he discusses the novel
Clockwork Angels: The Novel
.
Clockwork Angels: The Novel
, by Kevin J. Anderson, from a story and lyrics by Neil Peart, is now available. The novel is
available in hardback
from ECW Press, and
on audiobook
available from Brilliance Audio - read by Neil Peart. The Novel premiered at #18 on
the New York Times bestseller list.
Here is a collection of related news and interviews:
"In an innovative combination of music and literature, the new album Clockwork Angels by legendary rock band Rush has been converted into a full-length 'steampunk' science fiction novel by international bestselling SF author Kevin J. Anderson and Rush drummer and lyricist Neil Peart.

"The music throughout the Clockwork Angels album-the band's 20th studio album-forms the backbone of a colorful adventure story, which is now fully realized in Clockwork Angels: The Novel (ECW Press, hardcover, September 2012). The story tells of a young man caught between the grandiose forces of order and chaos. On a quest to follow his dreams, he travels across a lavish and colorful world of steampunk and alchemy, with lost cities, pirates, anarchists, exotic carnivals, airships and steam engines, and a rigid Watchmaker who imposes precision on every aspect of daily life.

"...'For something like 20 years, Kevin and I discussed working on a project together that would marry music, lyrics, and prose fiction,' he says. 'The right idea and timing eluded us for a long time, but at last, both converged perfectly.' Clockwork Angels: The Novel seemed a natural.

"Peart approached Anderson with the idea several years ago, when Rush was in the early stages of creating the album. As the lyrics and music were completed, the two brainstormed the story, characters, setting, adventures, and ideas, sometimes with a flurry of a dozen e-mails per day. The artist Hugh Syme-who created eight illustrations for the CD booklet and original works for the novel-also provided inspiration.

"'This is a dream project for me,' Anderson says. 'I have always envisioned epic stories when listening to Rush music, and now working with Neil, it's possible to translate those stories to the printed page. Clockwork Angels: The Novel turned out even better than we had hoped. I think it's one of my very best books.'

"'As my 38 years with Rush will attest, I very much enjoy collaboration with like-minded artists,' Peart says. 'Working up this story with Kevin was one of the easiest, yet most satisfying projects I have ever shared-easiest, because we almost always simply agreed with each other's ideas, and most satisfying because I am so proud of the result.'" - ECW Press
For more on Kevin J. Anderson, visit his entry on this website's "Rush Inspired Literature, Film, And Pop Culture References" page
here
. You might also be interested in
Neil's introduction to Landscapes
, Anderson's short story collection. Lastly,
check out Anderson's blog post
from 2010 telling of his spending time with Neil during Rush's visit to Colorado on the Time Machine Tour.