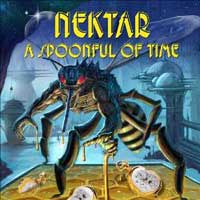 As
announced back in December
of last year, the long awaited collection of covers by veteran English progressive rock band Nektar is set for release in North America November 27th (
preorder here
). Included in this collection of classic prog rock tracks is a cover of Rush's "The Spirit Of Radio".
The first ever covers album from Prog Rock legends, Nektar, finds the band joined by an incredible gathering of musical heroes from a wide variety of genres!
Artful, energetic twists on The Doors' "Riders On The Storm," Pink Floyd's "Wish You Were Here," Rush's "Sprit Of The Radio," Roxy Music's "Out Of The Blue" and more!
Features performances by members of Yes, King Crimson, Symphony X, Opeth, Marillion, Asia, The Moody Blues, Dream Theater, Tangerine Dream, and more!
Although the Rush cover was originally rumored to include ELP's Keith Emerson on keys, the guest musician is Marillion's Mark Kelly. For more info visit
Nektarsmusic.com
.
- Thanks to Ton Jansens for the headsup!